---
Slice and dice investments for actionable insights. Group by sector, country, vintage & more.
September 2019
Read More
Enter the next layer of data to obtain rich and actionable insights. Collect region-wise revenue, or track profitability at a product level. Only with Fundwave Portfolio Management.
July 2019
Read More
KPI collections made easier. Your portfolio companies can now directly connect Fundwave with Xero and share the latest financials with you at a single tap.
April 2019
Read More
All metrics, together!
With the new metrics overview, access raw data and export all your portfolio KPIs to Excel at a single tap.
March 2019
Read More
Untangle your mailbox.
No more back and forth emails. Reach out and engage your portfolio CFO's directly on Fundwave.
March 2019
Read More
Website Integrations
Provide seamless access to your investors and portfolio companies, via custom Fundwave buttons on your website.
March 2019
Customize now
KPI collections made easier. Your portfolio companies can now directly connect Fundwave with QuickBooks and share the latest financials with you at a single tap.
February 2019
Identify key trends and outliers.
Obtain instant insights about your portfolio companies and stay ahead of the curve with Fundwave dashboards.
January 2019
Read more
Manage your portfolio updates with the Fundwave Requests Overview.
Create requests, send reminders and collect regular updates from all your companies, from a single dashboard.
November 2018
Collect portfolio metrics, files and text updates seamlessly.
Communicate better with your portfolio companies by collecting what you want, when you want.
Your portfolio CFO's will thank you for it.
Meet the new Fundwave Portfolio Management Platform.
A new way to collect, create and share.
Built for the modern manager. Built for you.
What's new?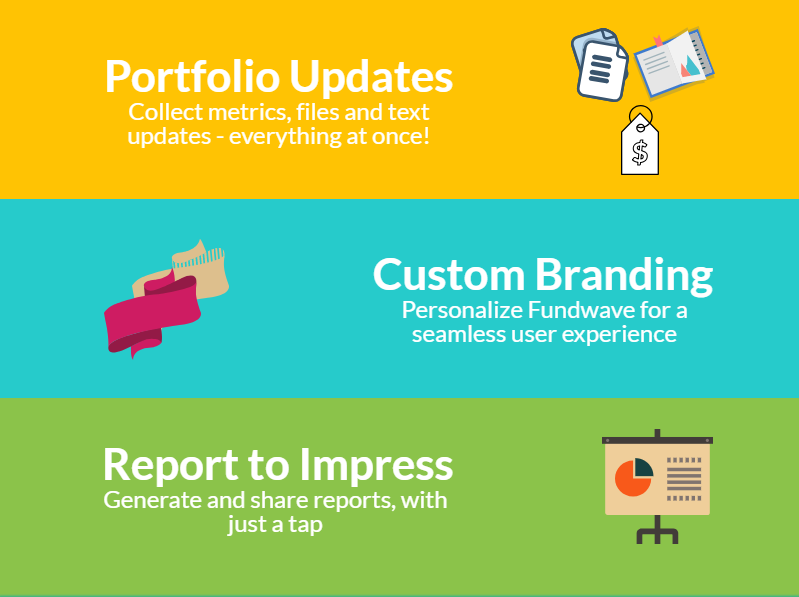 Stay tuned for stunning updates!
October 2018
Metrics
Select from a range of sample metrics or create your own metrics to analyze the performance of your portfolio companies.
October 2016
Portfolio Company Updates
Have you ever felt the need of an organized way to record everything important related to your portfolio companies? Say, a competitor raised a new round or that the company has decided to step on the sales. There's great news if you did, because our new Portfolio Updates help you with just that. Introducing new flexible widgets that you can drag and drop on your analysis dashboards.
You could use it like an internal wall to discuss an exit strategy or market update, and walk in to a board meeting better equipped. Or pull the important updates on a report that you send to your investors. Or do both.
Check it out on your Fundwave instance by choosing Updates on the menu.
September 2016
Help your portfolio companies report smarter with our Portfolio Management Software. Instead of manually entering portfolio metrics on a web browser, your portfolio companies can directly submit their metrics from their spreadsheets using our Portfolio Metrics Add-in for Excel. Finally, you can spend less time collecting data and give more time to analysis of your data.
Get it from the Microsoft office store.
August 2016
Schedule and assign your portfolio companies to submit their key metrics or files through Fundwave.
July 2016
Contact Us
Never Miss Out!
Subscribe to our newsletter and receive the latest news from Fundwave.