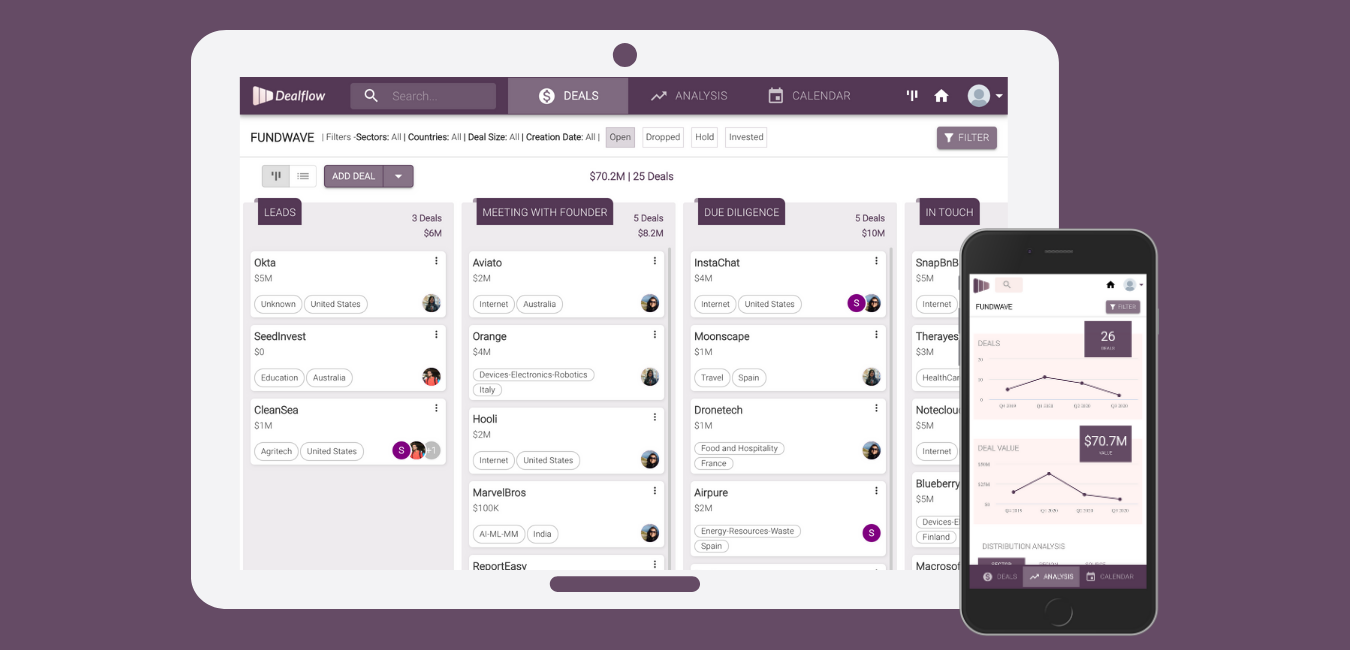 We're excited to share with you what we've been working on for the last several months. Our goal at Fundwave is to empower VC funds to do what they do best - identify and nurture the next great idea. And today, we're a step closer to that goal, with the new Dealflow app.
Why a new Dealflow?
---
Most modern human achievement is an outcome of a team of people identifying and supporting extraordinary entrepreneurs trying to build remarkable companies. Yet, managing this vast pool of companies remains difficult. Despite incorporating a rich tech stack of email, calendars, instant messaging and shared documents, basic questions remain unanswered and slip through the cracks. What are the next steps on this deal? Who is leading this deal? Have we received the due diligence reports? What's this company's performance last quarter? How much is our stake worth? With Jcurve, we helped our VC friends across the globe answer some of these post-investment questions. With Dealflow, we are trying to help answer some of the pre-investment ones.

What's new?
---
Most CRM tools can get the job done, and we use one ourselves for our sales pipeline! Unfortunately, they don't reflect the unique workflows of an investment fund. As an investor, your workflows change at each step of the investment process. You want to focus more on evaluating companies, instead of spending time recording their information. Dealflow is designed to help track progress easier and ensure that you have the information you need to make decisions.
A simple, efficient experience
Visualise your entire investment workflow on the Kanban view and manage the investment process more effectively. Have better visibility into how deals are moving through the process with key information available immediately. Dealflow helps in making your investment process more efficient and predictable by building in stable processes that help eliminate bottlenecks.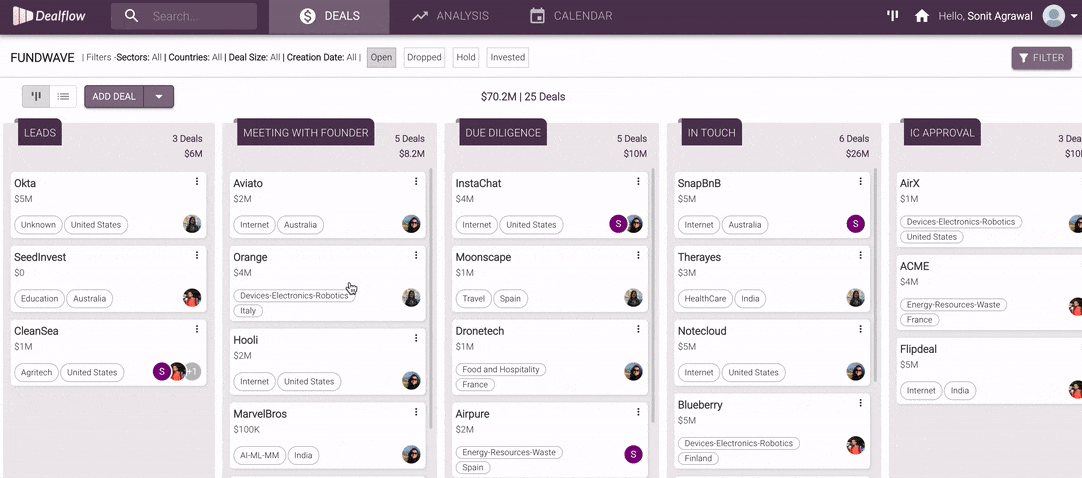 Pitch Pages: Let the deals come to you
Eliminate emails from your inbound deal sourcing. Use Pitch Pages on Fundwave Dealflow to generate quality deals and gather details that are relevant to your investment team. Place the Pitch Page on your website, helping founders get in touch with you, or share it with your venture partners when they're looking to send deals your way.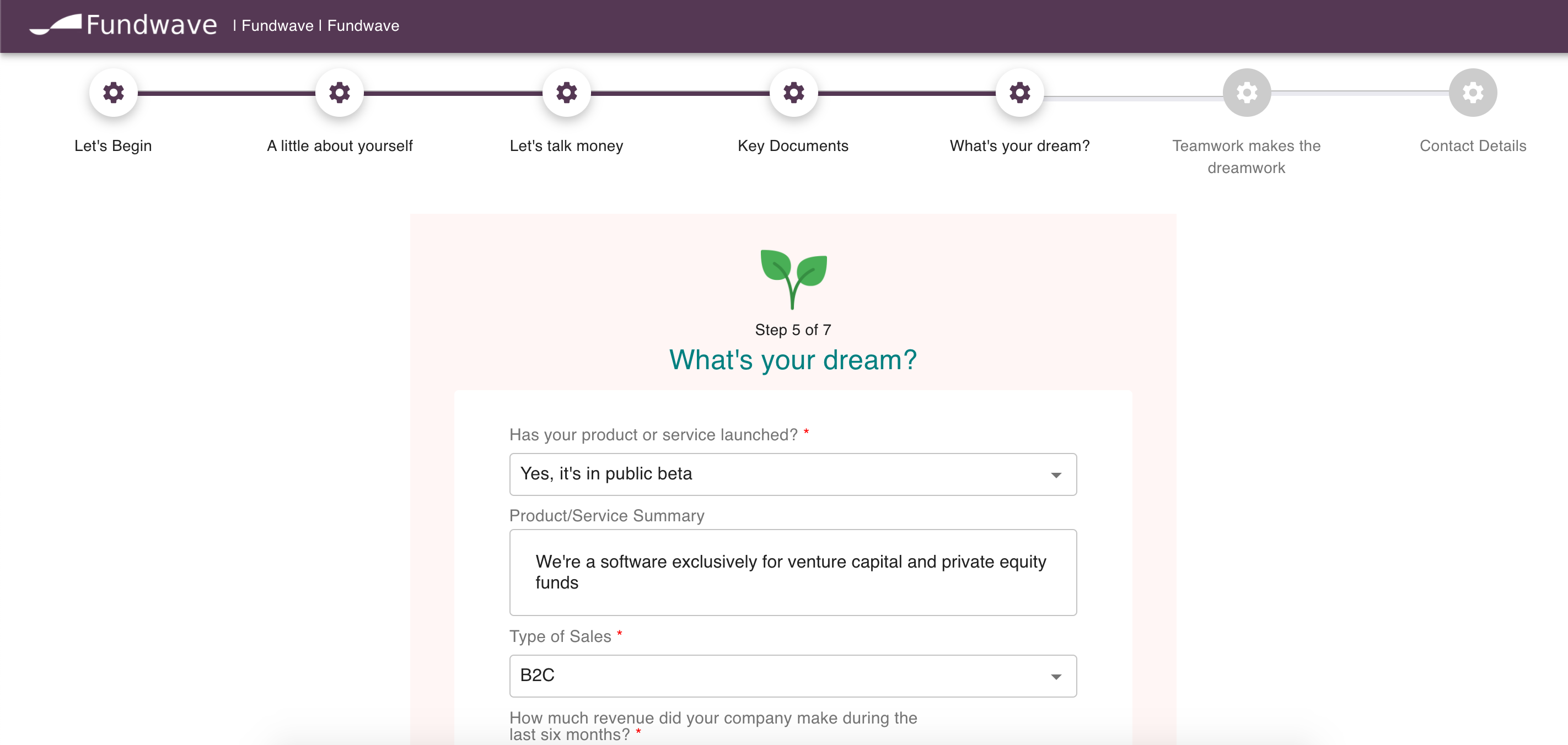 Stay connected with your tools
Fundwave Dealflow is where everything comes together. Connect with your favourite file storage apps like Dropbox and Google Drive to access deal documents together with the information you've gathered through the Pitch Pages.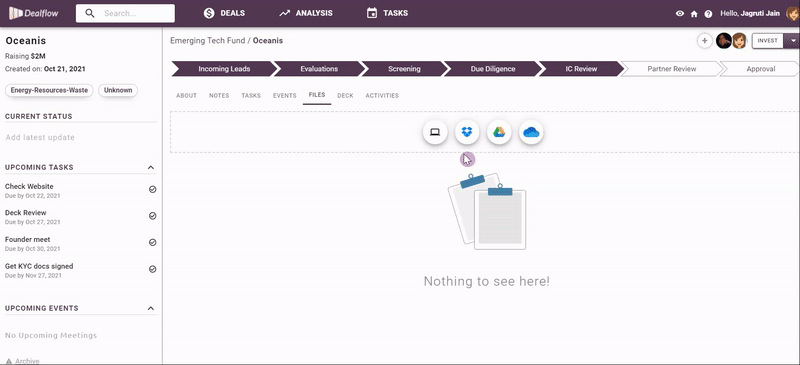 Keep your team in the loop by sending your Gmail and Outlook conversations with founders to Dealflow. Your team can then easily refer to conversations for their own deals instead of being stuck in never-ending cc lists.
Up next: Slack and Google Calendar
Our top priority is making sure that you have all the information you need to take the next action, and our upcoming integrations with Slack and Google Calendar are a step towards making the wheels of information turn faster.
What are some other integrations that could make life easy as you hunt for the next unicorn? Let us know in the comments below!
Optimize your investment process